SETH ON THE ETERNAL SOUL or ENTITY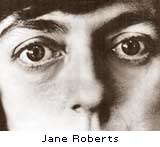 Audio Clip 8 (transcript of audio clip below)
From The Seth Audio Collection, Volume 1, Tape 26:
"Now, you ARE your entity. You are its materialization in space and time as you understand it. There is no division between your entity and what you are...

You are your entity growing through the seasons. The entity is not some soul, completed, perfect, done, and you a product. You are a living portion of the tree of your entity. You experience newly in your own dimension, and therefore enrich your entity as it constantly enriches you, for your source springs from it. But you are one, and there is no division."